Filter by Category
40hr PCA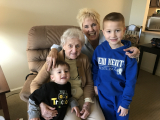 40-Hour Personal Care Aide (PCA) ONLINE MONTHLY
with Teresa Mason, RN, CPhT

Current session started Dec 5, 2023
* Start your new Healthcare Career in 2023 ...
** Special Discounted Price of $300 - Usually $350 

*Call or Text our office at 804-539-3809 with questions
* NOTE: ONLINE Access links are emailed weekdays ONLY
* Monday through Friday at 11am and 3pm ONLY
* No Exceptions - Please do not expect calls nights or weekends
* Learn online wherever it is convenient for you.
Access your class on your: 
* Desktop, Laptop, Tablet, or Smart Phone!


Dates: Monthly "Around the Clock"
* Online Portion of this class must be completed within 3-weeks
(21-days) from Start Date of class.


** Hands-on Skills to be completed "on the job" with a trained nurse added to Fresh Start Healthcare approved program.
You must ensure the facility is approved for nurse to complete Skills Check-Off Sheet
*Call or Text our office at 804-539-3809 with questions
*Or to request an approved facility location before registering for this class.
RICHMOND & SURROUNDING AREA STUDENTS:
First Come, First Serve ... so call to register ASAP!

Four to Eight (4-8) Hours of SKILLS & CLINICAL INSTRUCTION  MUST BE COMPLETED WITHIN 60-days of CLASS REGISTRATION ... PLEASE BE PROMPT WITH SCHEDULING.
40hr Personal Care Aide (PCA):
The 40hr Personal Care Aide program meets the Department of Medical Assistance Services (DMAS) curriculum for Home Health and Hospice and is also accepted by the Virginia Department of Social Services for 'direct patient care staff' in licensed assisted living facilities.
The course content instructs participants in assisting residents with activities of daily living, patient transfers, nutrition, oral & personal hygiene with "on-the-job" hands-on training to complete the program. 
A certificate will be provided within 14 business days upon successful completion of the course. DO NOT COUNT WEEKENDS OR HOLIDAYS.
Prerequisites: None
Class Duration: 3-weeks Online covers 36-Hours including videos
*Four to Eight (4-8) Hours of SKILLS INSTRUCTION ON-SITE
Employment Opportunities: Assisted Living, Adult Day Care, Private Duty, Personal Companion, Home Health, Hospice