Filter by Category
40hr PCA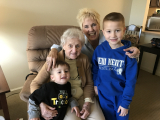 40-Hour PCA (Personal Care Aide) ONLINE MONTHLY
with Teresa Mason, RN, CPhT

Current session started Sep 12, 2022
1 additional session on Oct 10, 2022
Put 2020 & 2021 Behind You ...
* Start your new Healthcare Career in 2022 ...
* Reach out to Job Opportunities - Available NOW at:
         
           https://freshstarthealthcare.com/jobs/


** Special Discounted Price of $300 - Usually $350 
* NOTE: ONLINE Access links are emailed weekdays ONLY
* Monday through Friday at 11am and 3pm ONLY
* No Exceptions - Please do not call nights or weekends
* Learn online wherever it is convenient for you.
Access your class on your: 
* Desktop, Laptop, Tablet, or Smart Phone!


Dates: Monthly "Around the Clock"
* Online Portion of this class must be completed within 3-weeks
(21-days) from Start Date of class.


** Hands-on Skills to be completed "on the job" with a trained nurse added to Fresh Start Healthcare approved program.
You must ensure the facility is approved or call our office to request an approved facility location before registering for this class.
RICHMOND & SURROUNDING AREA STUDENTS:
First Come, First Serve ... so call to register ASAP!

Four to Eight (4-8) Hours of SKILLS & CLINICAL INSTRUCTION  MUST BE COMPLETED WITHIN 60-days of CLASS REGISTRATION ... PLEASE BE PROMPT WITH SCHEDULING.
40hr Personal Care Aide (PCA):
The 40hr Personal Care Aide program meets the Department of Medical Assistance Services (DMAS) curriculum for Home Health and Hospice and is also accepted by the Virginia Department of Social Services for 'direct patient care staff' in licensed assisted living facilities.
The course content instructs participants in assisting residents with activities of daily living, patient transfers, nutrition, oral & personal hygiene with "on-the-job" hands-on training to complete the program. 
A certificate will be provided within 14 business days upon successful completion of the course. DO NOT COUNT WEEKENDS OR HOLIDAYS.
Prerequisites: None
Class Duration: 3-weeks Online covers 36-Hours including videos
Employment Opportunities: Assisted Living, Adult Day Care, Private Duty, Personal Companion, Home Health, Hospice
PCA - 4-Hour SKILLS Checkoff
with Quanisha Berry, LPN

Next available session starts Oct 8, 2022 at 10 am
1 additional session on Oct 22, 2022
******EFFECTIVE MARCH 1, 2022 TARDY ARRIVALS OR NO SHOWS FOR SKILLS WILL FORFEIT THEIR SEAT AND WILL BE CHARGED $100 TO RESCHEDULE ANOTHER DATE. ******
Skills checkoff for 40hr PCA course at Promedica (formerly ManorCare- The Village) Assisted Living, 2125 Hilliard Rd, Richmond, VA 23228. 
This 4-hour skills portion of the 40Hr PCA course demonstrates mastery of the care skills discussed in the online portion.   
Class seats are limited to 10 per session.  FIRST COME, FIRST SERVE by registration ONLY. 
Pre-Requisites:
(1) SUCCESSFUL COMPLETION OF ONLINE PORTION OF 40HR PERSONAL CARE AIDE COURSE. 
(2) PAYMENT IN FULL OR PAYMENT PLAN FOR PCA.  *You will NOT receive your certificate until the class has been paid in full. 
WHAT TO BRING: 
- APPROPRIATE DRESS: Please wear scrubs and closed-toe shoes (no Crocs, flipflops, sandals or clogs).
- Bring your ID to verify.
- ARRIVE ON TIME - Testing starts promptly at 10 am. YOU WILL NOT BE ALLOWED TO PARTICIPATE IF YOU ARE TARDY. YOU WILL FORFEIT YOUR SEAT IN THE CLASS AND MUST PAY $100 to RESCHEDULE FOR TARDY OR NO SHOW.